Russell Wright ~ Landscapes and Garden Design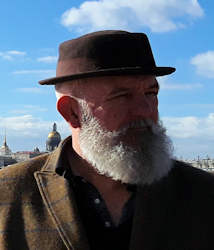 Russell Wright established Russell Wright Landscape & Garden Designs in 1986, since then Russell Wright Landscape & Garden Designs has created many different, individually tailored gardens, none of them the same. They have included the smallest courtyard gardens to country house gardens, seaside gardens, water gardens, historically accurate gardens, wildflower meadow, knot gardens, set-design gardens for the BBC, commercial planting and design.
Creative Garden Design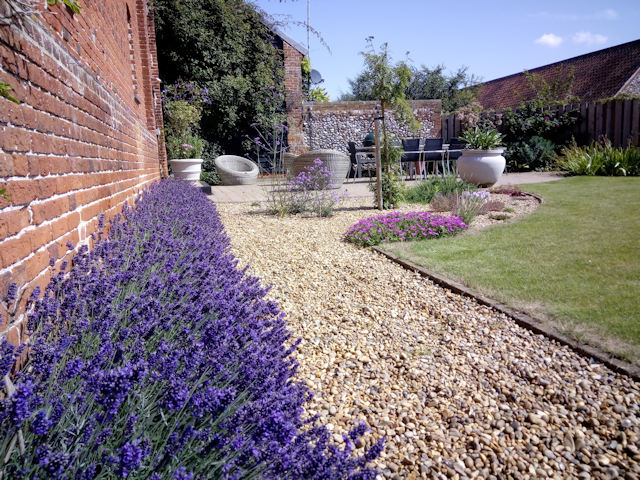 With all our private clients the main brief has to be how they want to use their valuable outdoor space and it's with this remit that the design of the garden is based on. Following an initial consultation with the client, which is free, a full survey of the garden is taken and scaled working drawings are done with 3D visuals to help convey to people what the completed design will look like. We believe it is essential that any design compliments the house and it's setting and harmonises with the wider landscape beyond. We pay great attention to detail, a garden which we completed recently in Sheringham had the shingle sourced from a quarry near Southwold, you might think well shingle is shingle but this type and quality of shingle was crucial to achieving a genuine seaside feel to the garden. It's this level of finish which gives our gardens that cutting edge, that quality finish.

Russell Wright Landscape & Garden Designs have created water gardens since 1986 ranging from historically accurate Dutch style canals, to large clay lined natural ponds to small formal and informal ponds, water often forms the focal point to any garden and we have both the experience and design flair to achieve the perfect setting for any water feature.
A Space That Reflects Your Personal Requirements
A good garden is an oasis, a place of refuge from the strains and pressures of the modern world, a spiritual place, and a place of sanctity, a place of renewal. A safe haven, a personal space and a space to share and to entertain friends. All this we try and bear in mind when creating a new garden we passionately believe that your garden has to work for you, the client not just for now but for years to come. We have returned to gardens 15 years plus after they were completed and still they are going from strength to strength.
Unrivalled Knowledge of Plants
We also pride ourselves on our extensive planting knowledge and skill, whether it's establishing wild flower meadow, raised planting, herbaceous borders in the modern Flemish style or forming pleached lime/hornbeam hedging to planting large specimen trees. We have many fine examples we can show you.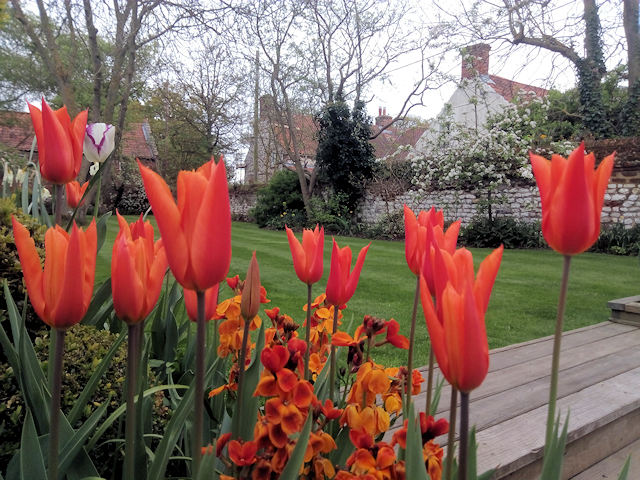 Not Just For Full Garden Makeovers
For those you don't wish to have a complete garden done we are more than happy to quote for a new patio, new lawn, water feature, a new border, new or replacement hedge or just to re-arrange and improve on an existing layout. We can also quote for most types of fencing including wattle and we are able to do drives with shingle or tar-spray and shingle finish.

Our building skills include traditional Norfolk cobble walls, laying natural sandstone, Belgian style brick- weave paving, steps, crazy paving, granite sets, rendered walls, pond construction and more, all done to exacting high standards.
A Company You Can Rely On
Russell was born in Tuttington near Aylsham and has lived in Norfolk all his life, most of his completed projects are in Norfolk, North Suffolk and a few in London, even the project we did for the BBC was done in Norfolk, a scene for a Ruth Rendell murder mystery was created in the woods at Hindolveston.

Russell also works with some of Norfolk's finest landscape designers, Lucy Roberts (www.lucyroberts.uk.com), Tamara Bridge (www.tamarabridge.co.uk), Susannah McDougall (www.susannahmcdougall.com) The Romantic Garden (www.romantic-garden-nursery.co.uk) and AMA Construction Cost Managers (www.ama-qs.co.uk).