Our Services
Russell Wright Landscape & Garden Designs offer a comprehensive range of services to create the perfect outdoor space for your property. Our first site visit is free. This is the ideal opportunity for us to get to know the client, fully understand what their requirements are and to explain the services we provide.

If the client is happy to proceed then initial visit is followed up with a full site survey after which full working drawings and 3d visual are produced. This process records the garden's current state. Changes in level are recorded, how the garden sits in relation to the house, any important views noted and areas to be screened or enhanced.

For larger gardens a land survey can be commissioned to gain accurate and reliable survey information quickly and efficiently. This can be especially useful for complex sites and older properties where such information often does not exist.

Other mapping services, tree and underground surveys are further means of getting accurate information about more extensive, and sometimes, complex sites, gardens and grounds.

Russell Wright Landscape & Garden Designs prides itself on the exceptionally high quality of the work we do; the whole process, from concept to finished project, is overseen by Russell Wright who has 30 years experience. Whenever possible materials are sourced locally.

All aspects of landscaping are undertaken, see our Gallery for examples of completed gardens. Maintenance programmes can be arranged and priced for on an annual basis.

Our extensive range of services include:
All aspects of garden maintenance
All ground work
All water features
Brickweave clay paviors and concrete paviors
Decking
Gates and fences
Graded banks / grass sculpture
Installation of large boulders and garden statuary
Laying of armoured cable for outdoor lights
Metal edging/timber edging
Planting
Planting and after care of large trees
Pond maintenance
Ponds / canals / waterfalls / cascades / fountains
Shingle drives / paths
Soil improving
Steps
Tar-spray and shingle finish to drives
Training frames for bleached lime / hornbeam
Trellising
Turf care / treatment
Turfing / seeding
Walls Norfolk cobble and brick
Wattle fencing
Wildflower meadow
York stone paving / other paving
Sketch proposals & Master Plans
Back at the studio, Russell Wright Landscape & Garden Designs will explore initial thoughts, ideas and layouts for the garden at the drawing board.

There will be plenty of opportunities for you to discuss how the design is developing, and to ask questions and give input before any part of the design is finalised.
Master Plans & Detailed Design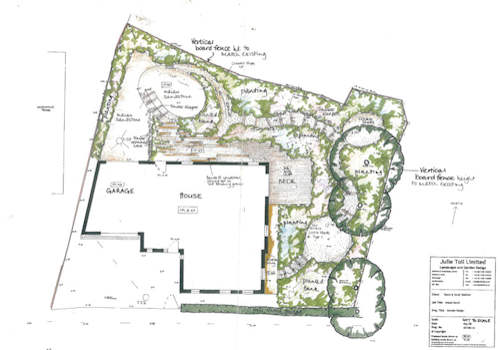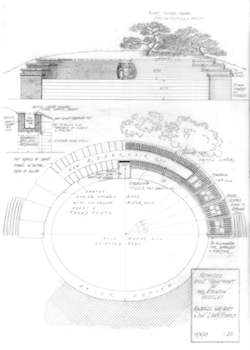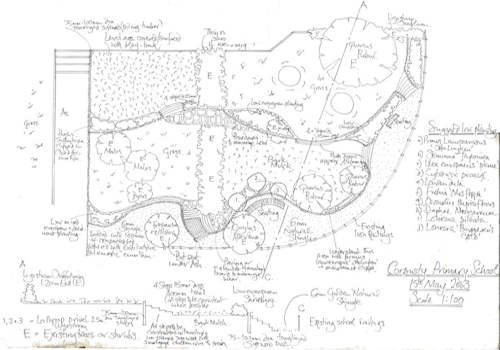 The final design is then drawn up into a scaled plan showing the main garden layout and how the garden will be used.

All structural planting (trees, hedges and large shrubs) and planting areas with suggestive planting will be shown. The plan will show important views, any changes in level, proposed materials as well as suggestions for garden lighting and any water features, pools or ponds.

Sketches can often help a client visualise how the garden will look and Russell Wright Landscape & Garden Designs are happy to produce them on request. Bespoke items such as gates, fencing, benches and unique items can also be discussed, designed and sourced at this stage.
Planting

Discussions on planting style, colour, your planting likes and dislikes will ensure that the new planting reflects your wishes before any detailed planting plans are produced.

It is important that any new planting has good structure or 'bones' – trees, hedging and important shrubs – to ensure the garden or particular area looks good throughout the year. Russell Wright Landscape & Garden Designs always ensure that the planting is rich with a long flowering season, and has visual and textural interest through the year. Good colour use and lots of scent are also important considerations.
Garden Construction & Project Management
For larger projects, having someone overseeing the garden works ensures that the finished garden completely reflects the client's wishes, and that the project completion is smooth and to the highest standard.

For smaller garden projects, full project management may not be necessary. Russell Wright Landscape & Garden Designs can act in an advisory role and make site visits to review works. This can be a very helpful and reassuring way of steering a project to completion.

Russell Wright Landscape & Garden Designs source all plants from excellent and where possible local plant nurseries, and also set out the plants for planting. Any proposed materials to be used in the garden such as stone, bricks and timber as well as specimen trees and large plants will be shown for your approval wherever possible.
Aftercare
Aftercare for the finished garden is important. A suitable maintenance schedule can be devised, or Russell Wright Landscape & Garden Designs can help find reliable ongoing or seasonal maintenance for your garden to keep it looking its best.
Bespoke Items
Bespoke items such as gates, fencing, benches can also be commissioned, or sourcing unique objects such as garden furniture, planters, firepits and lanterns.